The Media And Security Team led by Prof. Min Wu was established in Fall 2001 at University of Maryland, College Park. A number of research and education activities related to multimedia signal processing and information security have been carried out, thanks to the effort by a dedicated group of MASTers. Among them are many talented graduate and undergraduate students - who are inspiring to work with and fun to have as friends. We are also grateful for having wonderful collaborators over the years and support from government and industrial sponsors.
Check out our new work, and share our joy for the milestones achieved by our MASTers.
(The website is under renovation. Some links may not work.)
ENF Power Signatures for Information Forensics
When was a video captured? Where? Was the sound track captured together with the visual? Or added on later? Check out our latest work addressing these issues using environmental fingerprint from power grid.

Secure Information Retrieval

Information retrieval over the encrypted domain is an emerging technology that aims at secure, effcient, and accurate document retrieval from an encrypted database without the need for decryption. This interdisciplinary research, combining cryptography, information retrieval, and multimedia signal processing, offers a promising direction for a more secure and privacy preserving approach for managing and retrieving sensitive information stored on today¡¯s fast-growing network clouds.
Multimedia Identification using Fingerprints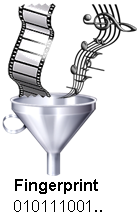 YouTube and other web services alike have revolutionized content sharing and online social networking by providing an easy-to-use platform for users to post and share video. At the same time, content owners have raised serious concerns on unauthorized uploads of copyrighted movies and TV shows to these websites, as witnessed by high-profile lawsuits filed against YouTube and Google. In order to deter copyright violation and more importantly, to help keep online communities alive legally, "content fingerprinting" technologies are deployed to compute a short string of bits to capture unique characteristics of each video and use it determine whether an uploaded video belongs to a set of copyrighted content or not. Content fingerprints are also used by such applications as Shazam on iPhone to use recordings of short audio clips to identify the song and provide information about the artist, the album, and where to buy.
Our research focuses on developing a better understing of content fingerprinting systems through theoretical modeling and analysis and answer questions regarding the identification performance, scalability and security. Through our analysis, we have also derived guidelines for improving the performance of commonly used modules in fingerprinting.
MAST in the News
Two ECE Graduate Students Receive Inaugural Kulkarni Fellowship
Biswadip Dey and Ravi Garg were awarded the 2013 Kulkarni Foundation Summer Research Fellowship which supports UMD doctoral students who are graduates of the Indian Institute of Technology (IIT). July 5, 2013 More >>
Min Wu named Distinguished Scholar-Teacher
Prof. Min Wu has been selected as a 2013-2014 Distinguished Scholar-Teacher by the University of Maryland. Feb. 7, 2013 More >>
Student team reaches finals of Qualcomm Innovation Fellowship competition
The graduate student team of Adi Hajj-Ahmad and Chau-Wai Wong has been selected as a finalist in the annual Qualcomm Innovation Fellowship competition. December 20, 2012 More >>
Wu Invited to National Academies' Annual Presidents' Circle Meeting
Professor Min Wu (ECE/UMIACS/ISR) is one of a few dozen guests invited by the Presidents of the National Academies to attend the Presidents' Circle 2012 Annual Meeting. May 20, 2012 More >>